"Climb the mountains and get their good tidings. 
Nature's peace will flow into you as sunshine flows into trees.
The winds will blow their own freshness into you, and the storms their energy,
while cares will drop off like autumn leaves."
- John Muir
Hiking, Backpacking, & Snowshoeing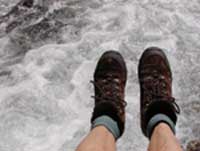 Figure 4.23: Boots over the river.

Source: Lori Curtis
The Flathead Watershed is one of the hiking hot spots of the world. There are hikes from short interpretive nature trails to extensive multi-day backpacks. Some of the most popular places to hike are found in Glacier National Park, Waterton Lakes National Park, the Jewel Basin in the Swan Mountain Range, Whitefish Mountain, and the Bob Marshall Wilderness Complex. The 1,535,992-acre (621,593-hectare) Bob Marshall Wilderness Complex includes the Bob Marshall, Great Bear and Scapegoat Wilderness Areas and is managed as a complex with managers on four national forests (Flathead, Lolo, Lewis and Clark, and Helena National Forests) coordinating management.
The Bob Marshall Wilderness is 1,009,356 acres (408,471 hectares) and includes 709,356 acres (287,066 hectares) on the Flathead National Forest and 300,000 acres (121,405 hectares) on the Lewis and Clark National Forest. The 286,700-acre (116,023-hectare) Great Bear Wilderness is on Flathead National Forest and the 239,936-acre (97,098-hectare) Scapegoat Wilderness is on Helena, Lolo, and Lewis and Clark National Forests. The Mission Mountains Wilderness is approximately 74,000 acres (30,000 hectares) on the Flathead National Forest. Some trails with easy access are:
The Swan River Nature Trail Once the old highway to the Swan Valley, this level trail follows the Swan River east out of Bigfork. The mile-long non-motorized section overlooks the rushing white water of Swan River's "wildmile" kayak races. The road continues for another mile past the Bigfork Dam to the new Kearney Rapids Bridge at Swan River Road. Horseback riders, bikers and skiers also use this road.
The Danny-On Trail extends 3.8 miles (6.1 km) from the Whitefish Mountain Ski Resort base area to its summit, winding through forests of Douglas-fir, western larch, spruce, and fir while crossing grassy ski trails full of summer wildflowers. In late summer, ripe huckleberries make for an especially pleasing hike. Along the trail and at the summit, hikers enjoy vistas of the verdant Flathead Valley below them and long-distance panoramas of Glacier National Park; the Canadian Rockies; and the Bob Marshall, Great Bear, Scapegoat, and Cabinet wilderness areas. The view from the top is 360 degrees of alpine wonder.
Figure 4.24: Backpacker.

Source: Lori Curtis
Lone Pine State Park covers 186 acres (75 hectares) and is 2,959 feet (902 m) in elevation. The park has a self-guided nature trail and several informal hiking trails, horse trails, and an archery range. There are three scenic overlooks with outstanding views from Flathead Lake to Whitefish Mountain Ski Resort. The visitor center has nature and interpretive programs.
Permits for backpacking and overnight stays are required in some areas. Guidebooks and trail maps are an important part of planning an outing in the Flathead Watershed. There are a number of guidebooks available for the area.

The weather in the Flathead Watershed can change quickly and dramatically throughout the year. It is crucial to hike with gear that will protect you when this occurs.

A daypack or backpack is incomplete without the following minimal gear:
Water: A minimum of 32 ounces (1 liter) for a day hike. For longer hikes, take additional water and a water filter
Food
Compass
Map
Waterproof jacket
Waterproof pants

Wool or fleece hat
Fleece or pile filled gloves
Sunscreen
Sunglasses
Bug repellant
Bear spray
First Aid Kit
Warm wool or fleece breathable sweater
In order to increase your chances of surviving unexpected weather or an injury (or what survival trainer Mountain Man Jodie Boxell calls "an unexpected overnight stay"), a survival kit is advised. Pack all this in a light weight backpacking cookpot:
Knife with a decent saw blade
Emergency space blanket
Waterproof matches
Flint and steel
Fishing line and hooks

Mirror
Bouillon cubes
Twine
Aspirin & ibuprofen
Ace-type bandage
Sewing needle
There are numerous opportunities for guided walks, snowshoe and ski trips throughout the Flathead Watershed. These are great ways to join others in discovering new places in the watershed. Check with federal and state parks and the local paper for ideas.